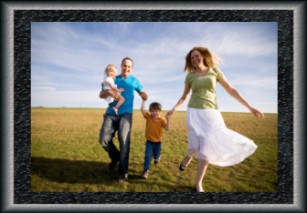 A Mother Touch--
Active
Instead of sending her children from her presence, that she may not be troubled with their noise, and be annoyed with the numerous attentions they would desire, she will feel that her time cannot be better employed than in soothing, and diverting their restless active minds with some amusement, or light, happy employment. The mother will be amply repaid for her efforts in taking time to invent amusement for her children.
Young children love society. They cannot, as a general thing, enjoy themselves alone, and the mother should feel that, in most cases, the place for her children, when they are in the house, is in the room she occupies. She can then have a general oversight of them, and be prepared to set little differences right, when appealed to by them, and correct wrong habits, or the manifestation of selfishness or passion, and can give their minds a turn in the right direction. That which children enjoy, they think mother can be pleased with, and it is perfectly natural for them to consult mother in little matters of perplexity. And the mother should not wound the heart of her sensitive child by treating the matter with indifference, or by refusing to be troubled with such small matters. That which may be small to the mother is large to them. And a word of direction, or caution, at the right time, will often prove of great value. An approving glance, a word of encouragement and praise from the mother, will often cast a sunbeam into their young hearts for a whole day.
The first education children should receive from the mother in infancy, should be in regard to their physical health. They should be allowed only plain food, of that quality that would preserve to them the best condition of health, and that should be partaken of only at regular periods, not oftener than three times a day, and two meals would be better than three. If children are disciplined aright, they will soon learn that they can receive nothing by crying or fretting. A judicious mother will act in training her children, not merely in regard to her own present comfort, but for their future good. And to this end, she will teach her children the important lesson of controlling the appetite, and of self-denial, that they should eat, drink, and dress in reference to health.
SM Book 2 P 438-439