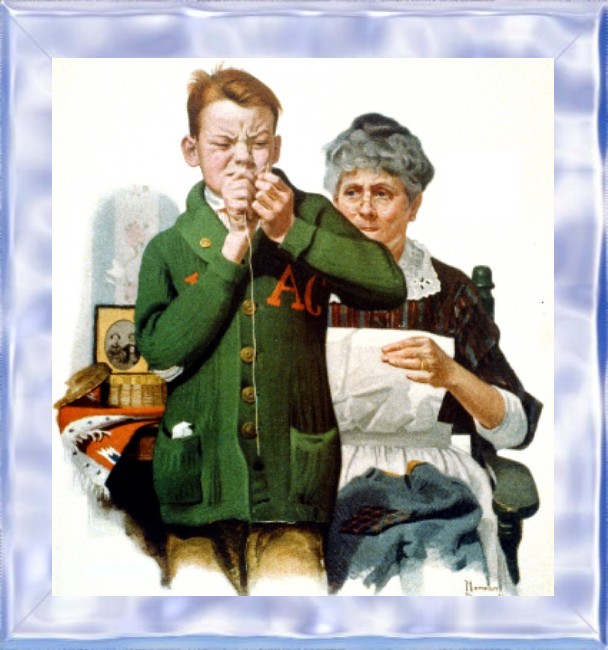 Mother Touch--
Train
It is the mother's privilege to train her children for heaven. This is her high calling. But the work is a difficult one, requiring more than human strength and wisdom, and oftentimes the weary, over-burdened mother feels that the task is too much for her. But listen, tired mother, to the invitation of the Saviour, "Come unto Me, and I will give you rest." Go to Him, with your little ones in your arms. He who has said, "Suffer the little children to come unto Me, and forbid them not," will not turn you away. He will welcome you, and will give you peace and joy. In His presence you will find strength that will give you courage and wisdom for the most trying hour.
If mothers would go to Christ more frequently, if they would trust Him more fully, their burdens would be lighter, and they would find rest. Jesus knows the burden of every mother. He is her best friend in every emergency. His everlasting arms support her. That Saviour whose mother struggled with poverty and privation, sympathizes with every mother in her work, and hears her earnest prayers. That Saviour who went on a long journey for the purpose of relieving the anxious heart of a Canaanitish woman, will do as much for the afflicted mother of to-day. He who gave back to the widow of Nain her only son as he was being carried to burial, is to-day touched by the bereaved mother's woe. He who wept at the grave of Lazarus, who pardoned Mary Magdalene, who on the cross remembered His mother's needs, who after the resurrection appeared to the weeping women, and made them His messengers, is to-day woman's best friend, ready to aid her in her need if she will trust in Him.
Mothers, be faithful. Do not become discouraged in your work. Talk to your children of Christ, and pray with and for them. Your words will abide in their hearts. They may not seem to heed what you say. They may put on an appearance of indifference and levity, as if your words were disregarded. But do not cease your efforts in their behalf. Your words are in their mind. They can not forget them. You have sown the seed. In years to come, it will spring up and bring forth much fruit.
How many times has the remembrance of a mother's prayers and admonitions checked the absent child when about to yield to temptation. "When I was a child," said an old man, "my mother used to bid me kneel down beside her, and placing her hand on my head, she would implore God's blessing on her boy. Before I was old enough to know her worth, she died, and I was left to my own guidance. I was naturally inclined to evil, but again and again I was restrained by the thought of my mother's prayers. When a young man, I traveled much, and was exposed to many temptations. But when I would have yielded to temptation, I seemed to feel the pressure of my mother's hand upon my head, and I was saved. Sometimes there came with it a voice in my heart, a voice that must be obeyed: "O do not this wickedness, my son; sin not against thy God."
Christian mother, forget not where lies the Source of your strength. Abound in prayer--fervent, earnest, wrestling prayer. Great and arduous are your duties, and great your need of help from on high. You need wisdom, firmness, patience, self-control. Whither can you go for these but to the mercy-seat of Him who "giveth to all men liberally, and upbraideth not"? "Every good gift and every perfect gift is from above, and cometh down from the Father of lights."
Constant prayer will fit you for your duties. By prayer you may lay hold of the strength of God, and be enabled to say with the apostle, "I can do all things through Christ which strengthen me."
In the arms of faith carry your children to the Saviour. Plead for them the promises of God. A mother's voice will never plead in vain. Pride would teach you to ask for worldly honor, earthly greatness, for your loved ones; but O, ask for them a greater boon than these. Reach out and grasp for them a prize the worth of which eternity alone will reveal.
O mother, you have a labor of love to perform. Faint not, neither grow weary. Let a sense of the importance of your high calling animate you to run with patience the race set before you. And when you have finished your course, yours will be the unspeakable joy of being welcomed with the words, "Well done, good and faithful servant; . . . enter thou into the joy of thy Lord." And with your loved ones around you, you will stand on Mount Zion, and cast your crown at Jesus' feet, saying, Not unto us, but unto Thy name be glory.
The Signs of the Times
August
20,1902