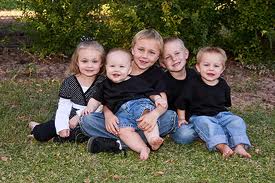 A Mother Touch--
Time
Parents, especially mothers, should be the only teachers of such infant minds. They should not educate from books. The children generally will be inquisitive to learn the things of nature. They will ask questions in regard to the things they see and hear, and parents should improve the opportunity to instruct, and patiently answer, these little inquiries. They can in this manner get the advantage of the enemy, and fortify the minds of their children, by sowing good seed in their hearts, leaving no room for the bad to take root. The mother's loving instructions at a tender age is what is needed by children in the formation of character.
The first important lesson for children to learn is the proper denial of appetite. It is the duty of mothers to attend to the wants of their children, by soothing and diverting their minds, instead of giving them food, and thus teaching them that eating is the remedy for life's ills.
If parents had lived healthfully, being satisfied with simple diet, much expense would have been saved. The father would not have been obliged to labor beyond his strength, in order to supply the wants of his family. A simple nourishing diet would not have had an influence to unduly excite the nervous system, and the animal passions, producing moroseness and irritability. If he had partaken only of plain food, his head would have been clear, his nerves steady, his stomach in a healthy condition, and with a pure system, he would have had no loss of appetite, and the present generation would be in a much better condition than it now is. But even now, in this late period, something can be done to improve our condition. Temperance in all things is necessary. A temperate father will not complain if he has no great variety upon his table. A healthful manner of living will improve the condition of the family in every sense, and will allow the wife and mother time to devote to her children. The great study with the parents will be in what manner can they best train their children for usefulness in this world, and for Heaven hereafter. They will be content to see their children with neat, plain, but comfortable garments free from embroidery and adornment. They will earnestly labor to see their children in the possession of the inward adorning, the ornament of a meek and quiet spirit, which is in the sight of God of great price.
SM Book 2 P 437-438
Show the children nature pictures of God's creations.